One rugged part of Ireland, says Andrea Watson, still has deals within reach.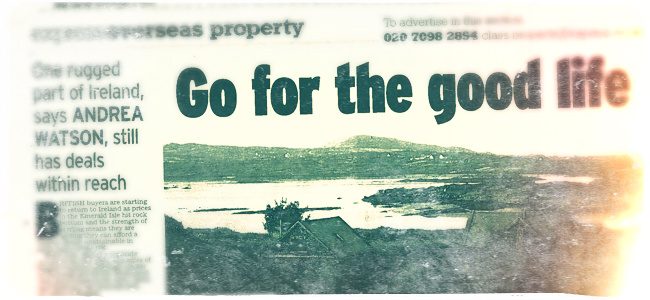 BRITISH buyers are starting to return to Ireland as prices in the Emerald Isle hit rock bottom and the strength of sterling means they are finding they can afford a coastal dream unattainable in many parts of the UK.
West Cork, almost a separate county in its own right, has miles of rugged coastline strikingly similar to Cornwall and Devon. Festooned with picturesque ports, bays, inlets and harbours, the area has seen an influx of English buyers according to Maeve McCarthy of estate agent Charles McCarthy, based in Skibbereen (www.charlesmccarthy.com).
Ms McCarthy said: "No doubt the property market has gone through a cataclysmic recession, on average property has fallen by 50 to 60 per cent across the board, but we are finding that West Cork is holding value better than other areas. "A lot of people are coming over from the UK, especially London. We estimate that 65 per cent of our sales are to this market because there is value again and sterling is quite strong."
The agent's last two high-end sales have both been to British bankers but if it is cheap deals that you want Charles McCarthy has plenty of those too.
"Last month there were properties sold ranging from €40,000 to €4 million," Ms McCarthy said.
The best value may be properties with a coastal aspect and you won't pay anything like what you would in the West Country of England. Moreover, with flight times of just an hour to Cork plus a transfer of no more than 90 minutes, buyers find they can be in their holiday cottage almost as quickly as they can spending hours crawling down the M5.
Currently the agent has a four-bedroom house with detached two-bed cottage at Poulnacalle at €650,000. Built in 1996 the coastal property, with two acres of land, has outstanding views of the Ilen Estuary and Cape Clear Island in the distance. The water frontage access can be developed to enable boat launching.
At €295,000 buyers looking for coastal property could hardly do better than 5 Crookhaven Cottages, a conversion of the 19th century homes built for the workers on the Fastnet lighthouse.
Restored and renovated in the 1990s the three-bed property, which has a shared access to a private slipway, is being sold fully furnished.
Near the pretty harbour village of Glandore, Pat Maguire Properties (www.patmaguireproperties.com) is offering Fuchsia Lodge at €250,000. The new three-bed property is located at the entrance to the village and has views from the upper rooms over the harbour, a sun patio and parking.
It's not only holiday home buyers who are drawn to the attractions of this area. Others are settling down too, inspired by the artistic and cultural scene, the landscape, the friendliness and the food.
"People come here for the good life, it's a much slower pace of life than in metro areas," said Ms McCarthy. "It's an easy place to put down roots."
Kitty Sissson and her writer husband Joe Horgan, both from the UK, moved to West Cork in 1999 and have never looked back. Now with three children, including Lily, Grace and Frank, they have extended their cottage near Clonakilty and restored an outbuilding to provide a holiday let.
She said: "We are able to live a rural lifestyle that we almost certainly couldn't afford in the UK. Our children are growing up in a safe, beautiful area, eating food from the garden, and are surrounded by an ever-growing menagerie of pets which roam round our 'Irish acre'.
"They live outside much of the time, scaling our trees to dizzying heights, horse riding and braving the Atlantic all year. In short they are having a totally different experience from our own city childhoods in London and Birmingham, and they love it. "
Ireland has attracted many writers, musicians, artists and film-makers, offering generous tax exemptions, and although these are now capped the legacy remains.
Celebrity names drawn to the West Cork area include Jeremy Irons, who bought Kilkoe Castle near Ballydehob in 1998 with his wife Sinéad Cusack. It is one of their seven homes.
"I spent six years and much more on it than it is worth but I never regret it. I feel a great affinity for the place, as a lot of English people have done," the actor has said.
A close neighbour is film producer Lord Puttnam, who bought his home outside Skibbereen 20 years ago and now commutes weekly to London. He recently launched Ireland's first masters degree in organic horticulture, which will be based at Liss Ard, a local estate with a stunning country house hotel where there are plans to eventually develop a series of holiday cottages with lakeside views.
The recession has put those plans on hold but guests staying at the newly refurbished hotel will certainly have their appetites whetted by the location.
Liss Ard's manager Arthur Little said: "Fortunately West Cork escaped the planning blight that hit other parts of Ireland."
Ms McCarthy cautions buyers looking for rural homes that green field sites are now heavily protected since the excesses of the boom. The best option if you are looking for a bargain rural home is to extend or even rebuild.
"Some clients want old cottages to knock down so they can build on the footprint. You can also sometimes extend to the rear without planning permission provided there are no restrictions. All the details are on the West Cork planning site (www.corkcoco.ie.)."
An example of a rural bargain which the agent has on its books is a three-bed cottage with large garden at Reenmurragha priced at just €125,000.
Richard Way, editor of the Overseas Guides Company, said typical buyers taking advantage of the strength of sterling and depressed property market were 50-plus retirees and semi-retirees.
He added: "The property market in Ireland appears to be at or close to the bottom. One agent, Gordon Hughes, reported this week that currently 70 per cent of his clients are English."
Source: Daily Express